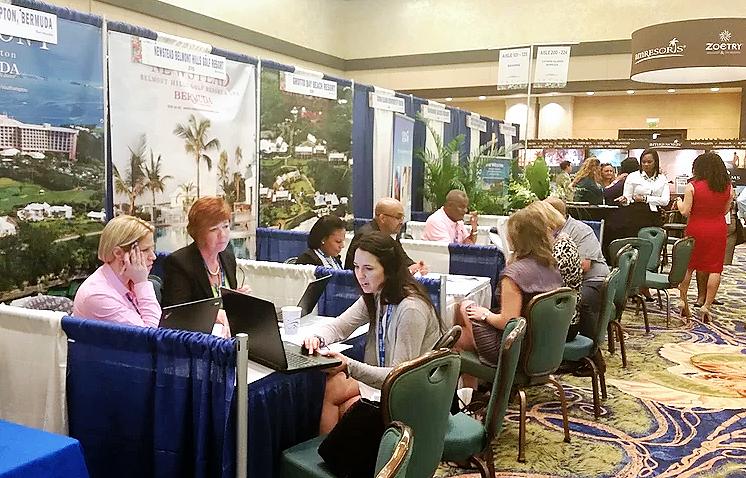 Caribbean Travel Marketplace will be held January 31 to February 2, 2017
MORE BUYERS REGISTERED FOR CARIBBEAN TRAVEL MARKETPLACE
MIAMI (January 23, 2017) - There has been a surge in new buyer interest for this month's Caribbean Travel Marketplace, according to the Caribbean Hotel and Tourism Association (CHTA).
The region's leading travel trade association announced that in addition to the longstanding representation of tour operators, wholesalers and OTAs (Online Travel Agencies) who attend the regional event, 15 new buyers from close to a dozen countries have registered to participate in the Caribbean's largest marketing event, which will take place at Atlantis Paradise Island in The Bahamas, from January 31 to February 2, 2017.
Buyers are matched with Caribbean suppliers (e.g. hotels, tour companies and tourism departments) during a busy two-day program featuring thousands of pre-scheduled appointments.
CHTA, which had earlier reported the participation of six new buyer companies, has received confirmations from nine more companies representing countries from Britain to Bulgaria.
CHTA CEO Frank Comito said the interest in the Caribbean from new buyers is very encouraging: "Caribbean Travel Marketplace is a platform for our members to conduct and increase their business by meeting with buyers from all over the world. We look forward to some very robust discussions in the Bahamas as we position the region as the best place in the world to visit for business or leisure."
New buyer companies include DERTOUR/Fiesta Travel from Bulgaria; DELUXEA from Czech Republic / Slovakia; France's Island Consulting and Spots D'Evasion France; Germany's EWTC; Caribbean Blue from Ireland; Poland's DERTOUR and Luxury Travel Management; Trelco Limited (IHG QATAR) from Qatar; Russia's Luxury Resorts Collection; Solbooking and TUI from Spain; and Britain's AZUZOO Limited, dnata and Love Holidays.
Buyers from Argentina, The Bahamas, Canada, Dominican Republic, Ghana, Italy, Mexico and the United States will also be in attendance.
In response to high interest from hotels, CHTA has added a Meetings, Incentives, Conferences and Exhibitions (MICE) industry component to Caribbean Travel Marketplace.
The Conference opens on the evening of Tuesday, January 31 and will be preceded by educational sessions that day. An event schedule is available at:
Caribbean Travel Marketplace, produced by the Caribbean Hotel and Tourism Association, is hosted by The Islands of The Bahamas / Bahamas Ministry of Tourism, the Bahamas Hotel & Tourism Association, Interval International, jetBlue Vacations, MasterCard and Sandals. Platinum Sponsors include AMResorts, Bonnier Corporation, C&W Business Solutions, Caribbean Wellness and Education, Marketplace Excellence Corporation, OBMI, Sojern, STR, Tambourine, TravelClick and Travelzoo. Adara, Alliance Connection, ARDA-ROC, Brides, Best Western Hotels & Resorts, Condé Nast Traveler, Delta Air Lines, Figment Design, Local Measure, Northstar Meetings Group, Prevue, Questex Travel Group, Recommend, RoomKnights, Simpleview, SiteMinder, The New York Times, The Wall Street Journal, Time Inc., TravAlliance Media, Travel Agent Academy, Travel Channel, Travel Pulse, TripAdvisor, and TripMate have joined the event as gold sponsors, while Grupo BT Brands Travel and Travel Trade Exchange have signed on as media sponsors.